McDermott G-Core Cue Shafts
McDermott G-Core Cue Shaft Technology significantly stabilizes the shaft through the use of a three layered core positioned in the front impact area of the shaft. G-Core Technology increases shaft stability by 65%, promoting increased accuracy with enhanced radial consistency.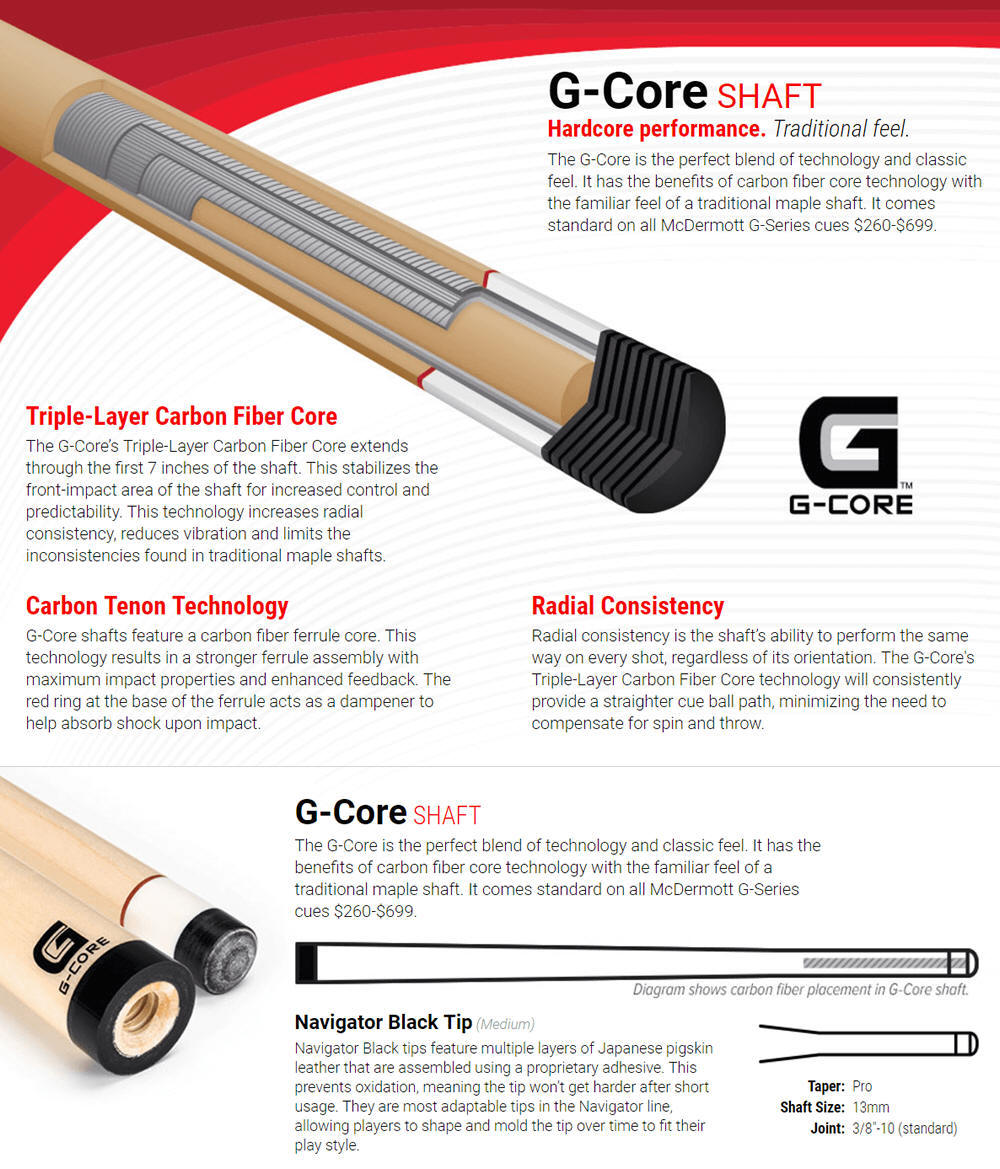 G-Core SHAFT
Hardcore performance. Traditional feel.
The G-Core is the perfect blend of technology and classic feel. It has the benefits of carbon fiber core technology with the familiar feel of a traditional maple shaft. It comes standard on all McDermott G-Series cues $280-$749

Triple-Layer Carbon Fiber Core
The G-Core's Triple-Layer Carbon Fiber Core extends through the first 7 inches of the shaft. This stabilizes the front-impact area of the shaft for increased control and predictability. This technology increases radial consistency, reduces vibration and limits the inconsistencies found in traditional maple shafts.

Carbon Tenon Technology
G-Core shafts feature a carbon fiber ferrule core. This technology results in a stronger ferrule assembly with maximum impact properties and enhanced feedback. The red ring at the base of the ferrule acts as a dampener to help absorb shock upon impact.

Radial Consistency
Radial consistency is the shaft's ability to perform the same way on every shot, regardless of its orientation. The G-Core's Triple-Layer Carbon Fiber Core technology will consistently provide a straighter cue ball path, minimizing the need to compensate for cue ball squirt.

Navigator Black Tip (Medium)
Navigator Black tips feature multiple layers of Japanese pigskin leather that are assembled using a proprietary adhesive. This prevents oxidation, meaning the tip won't get harder after short usage. They are most adaptable tips in the Navigator line, allowing players to shape and mold the tip over time to fit their play style.

Notice
It is recommended that you send in your cue butt when purchasing a new shaft. This allows us to custom fit your new shaft to your existing cue. Without sending in your cue, we cannot guarantee that the shaft will fit perfectly.
Click Here for McDermott Cue Index


Shippingis free for orders over $200.00. We offer UPS shipments to US, Canada and International.