| | |
| --- | --- |
| | Schmelke Pool Cues are Made in Wisconsin, USA. |
Why we recommend Schmelke Cues:
Schmelke does not offer huge discount rates. You will never see a 30%+ off sale on Schmelke Cues; however, Schmelke cues may be the very best bargain in Billiard's. Schmelke Cues are American made and have not significantly raised their prices in many, many years. I purchased my first Schmelke cue in 1988 for $85.00. I played with that cue for 8 years and sold it for $50! It remained perfectly straight and performed perfectly despite a tremendous amount of use. I wish I still had that cue today (how many of us wish we held onto our first professional cue?). That same model is available today (S3 - w/ Black Stain - Red/White Wrap) for $98.00.
Did you know that you can purchase an American Made Cue, custom made to your specifications for under $100.00? That is just incredible! It can be very difficult to support American Made in so many industries; but not in the billiard industry. There is no cue, built anywhere in the world, that offers more quality, playability and value.
Schmelke offers a tremendous amount of options including:
Weight
Shaft Diameter
Tip Selection
Joint Options
Stain Options (shafts can be stained to match)
Hard Rock Maple or Laminated Shafts
Cue Length from 52" - 64" (Equal length butt and shaft for most models)
Pearl Rings at Joint
Pearl Butt Caps Available
Personalized Engraving
Extra Shafts
High Performance Shafts (Predator, OB or others) with matching ring work
Most Custom models can be built and shipped in 2-3 weeks!
Exotic Woods:

While a lot of Schmelke cues around the $100 price point are not "fancy", it is very hard to beat the shear beauty of the worlds most beautiful exotic woods. In the Schmelke M Series, you can choose from beautiful woods like Shedua, Bocote, East Indian Rosewood, Goncalo Alves, Maple, Cocobolo and Purple Heart. These cues are elegant and beautiful and play incredible! If I were spending $100.00 on a pool cue, my first choice is the Schmelke M-040 Bocote.



Who needs inlays when you have exotic wood grain?
Schmelke Sneaky Pete Cues:

Schmelke Sneaky Petes are a pure performance value! It is a genuine, full splice American Made Sneaky Pete starting at $95! You can choose from exotic woods like Rosewood, Bocote, Purple Heart, Cocobolo, Bloodwood, Ebony, Kingwood or Tulipwood. Seriously! You can get a custom made Kingwood Sneaky Pete for $139! That's amazing!
Did you know that Schmelke sells Sneaky Pete Partials to a large percentage of the custom cue industry? The partial consists of the butt half of the cue in a pre-finished form. All the custom cue maker needs to do is build the shaft, install the joint and butt cap and finish the cue. When you see some of the renown high end cue makers selling sneaky petes for $300 - $500, don't be surprised if they started as a Schmelke sneaky pete partial. Yes, they are that good!
Truly Custom:
The term custom cue gets tossed around quite a lot. There are import made cues that claim to be "custom cues" despite the fact that there are absolutely no options available for the cue at all! That's not custom! If you order a Schmelke cue with standard options, it will likely be ready to ship; however, if you want a cue that is custom built just for you, you can still have it in 2-3 weeks! That's custom! That's value!
The information above is written by Greg Savoie, owner of BilliardWarehouse.com.
Schmelke Family Operated: (Information provided by Schmelke)
The Schmelke family has been in business for over 35 years making billiard cues in Northwest Wisconsin and operating a billiard supply store. The Schmelke business is now in the third generation of cuemakers.
Schmelke History:

Schmelke is located in the rolling hills of Northwest Wisconsin. We have been in business for over forty years. Today, Schmelke sells both one and two-piece billiard cues, cases and accessories throughout the United States and Europe and Canada. We now reside in a 15,000+ square foot manufacturing facility. Schmelke Cues began with Duard and Richard Schmelke, brothers who enjoyed playing pool. They saw a need for custom quality cues in the Minneapolis-St. Paul area and began making custom cues in a small shop behind their home. In the late 1940's Duard decided to make two-piece cues on his own and remained a one-man operation until 1969. In 1969 his son, Jim, joined him in making billiard cues.
| | |
| --- | --- |
| Duard and Richard Schmelke | Original Schmelke Factory |
Together Duard and Jim formed a partnership and began to expand the business.
They moved the business from the Twin Cities to a larger location in Northwest Wisconsin. A few employees were hired. Soon sales started expanding through the Midwest. Jim concentrated on the manufacturing aspect of the business, while Duard and his wife, Eva, traveled throughout the Midwest selling their cues. In the early 1980's Duard and Eva retired, with Jim purchasing the business and changing it to a corporation. In 1985 the business made another move to a new manufacturing facility. With the new building came new manufacturing techniques of higher speed. This new speed and efficiency allowed for greater production without compromising the quality craftsmanship of the original product.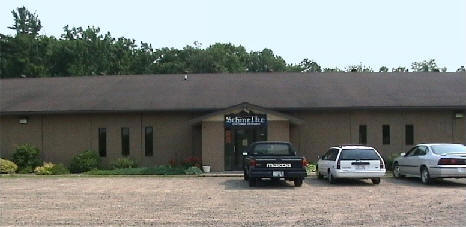 Current Schmelke Factory
Since 1985 the manufacturing facility has expanded three times. A new state-of-the-art UV finishing system and a complete climate-control system has since been added. Climate-control allows the wood to stay straight and true throughout the manufacturing process. This allows Schmelke to continue to improve its cues and provide high quality, affordable cues. Through the 80's and 90's Jim and Judy, his wife, managed the company while raising a family of one son and two daughters. Their son David, a graduate of the University of Wisconsin with a degree in Production Management, joined the family business in June of 1997. In 2000, Steve Johnson joined Schmelke Mfg. as Sales Manager. Jim, David and Steve hope to maintain Schmelke Cues as a family-owned business as they continue to provide customers with quality products and friendly customer service. We are proud of providing the best quality cues at the most affordable cost to our customers. Remember, whatever you need in a pool cue, Schmelke has a "Cue for You"!! With over forty years of experience in making cues, Schmelke is a name you can trust. Every Schmelke Cue is made in Northwest Wisconsin with only the finest materials. We guarantee you the finest made cue on the market. We use only the finest imported woods. Exotic woods such as Cocobolo, Rosewood, Birdseye Maple and Ebony are cured for at least a year. This guarantees the consistency and stability of the wood your cue is made of. The wood is then sorted for grain, texture and straightness.
Then the cue is assembled using only the highest quality cue parts such as Elk-Master tips, Linen Melamine Ferrules and our own Custom Designed Joints. Finally the finish is put on using our specially designed UV finish to protect each cue from the elements and guarantee a smooth stroke every time you use the cue. Our special UV finish takes away the need for shaft slickers and cleaners to keep your cue feeling smooth. Throughout the process the cue is checked for straightness 5 times. This is to guarantee you're getting the straightest cue possible. Finally the best feature of every cue is: Price. Take any Schmelke Cue and compare it to our competitors. You'll find a smoother finish, better quality wood and a more durable joint. Then look at the price and you'll see the Schmelke advantage.
Schmelke Today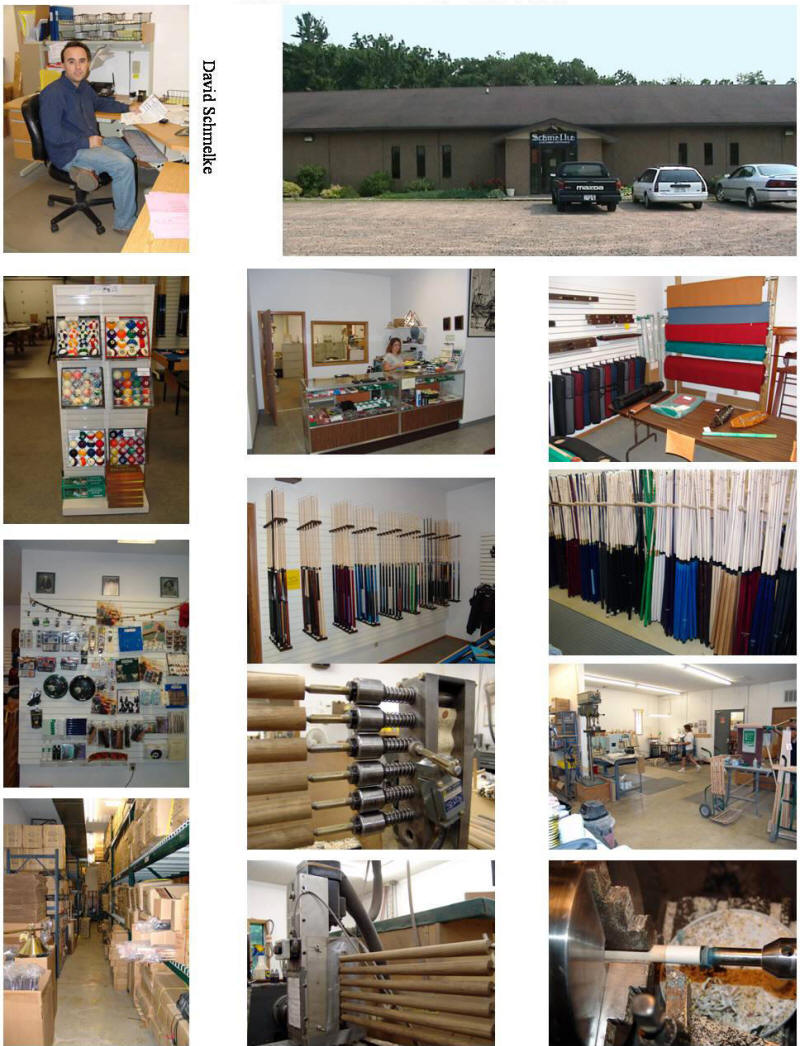 Support American Cues! You do not need to support American Made Cues because it is the right thing for the country and American Jobs, but because you will be receiving a superior product and a superior value.