Predator Arcos II Reserve Pool Ball Set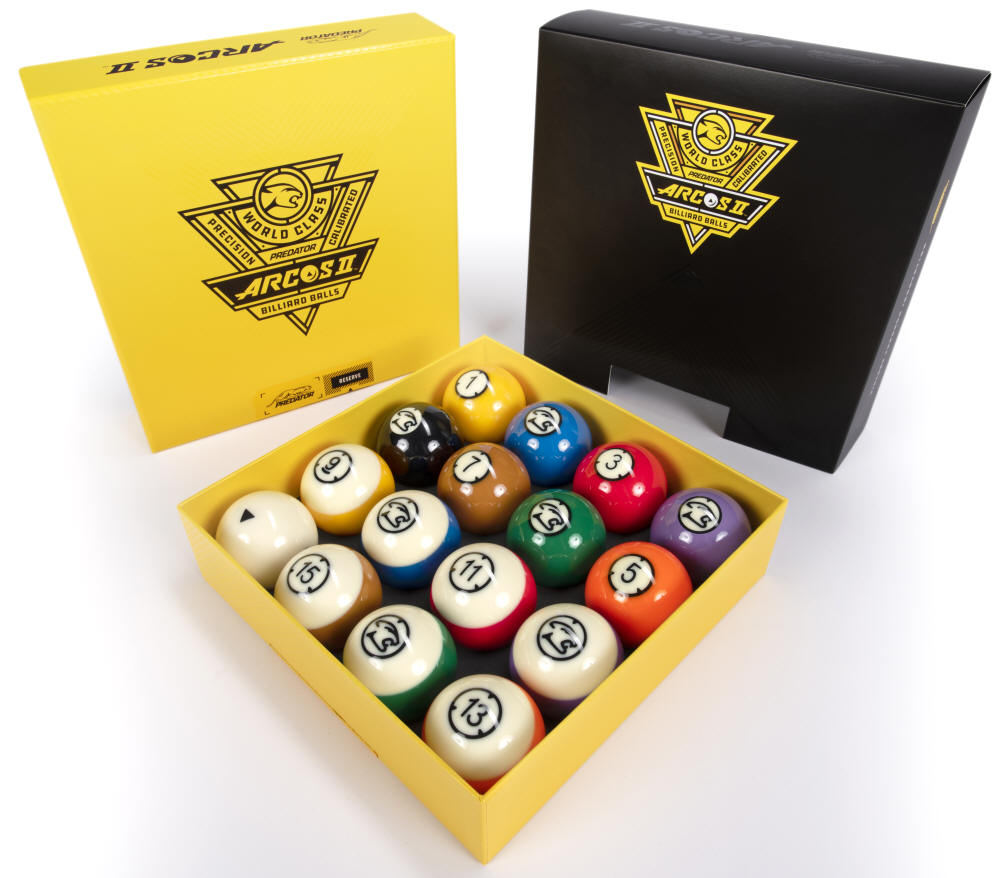 The Next Eveolution is Here

PREDATOR X ARAMITH

After revolutionizing pool cues, Predator is teaming up with legendary ball maker Aramith to unleash an all-new set of highly accurate and durable billiard balls. Our goal, as always, is to help you elevate your play and enjoyment of the game. By applying the signature Predator style to Aramith's flawless technology and production we've created a set of pool balls like no other.

The Arcos II delivers devastating performance with knockout good looks, including a high shine contemporary finish, exclusive, modern colors optimized for video and our custom triangle inlays that aid in targeting. They're not just pretty features, they're functional advantages that enhance visibility on the table and on camera – so you can shoot straight and look great doing it.

The homogenous density dispersion and true center of gravity in every Arcos II helps deliver a killer combination of durability, roundness and balance that maintains consistency over time. That means:

STRAIGHTER HITS
NO WOBBLING
ANTI-SKID TECHNOLOGY
A TRUE ROLL
► OPTIMAL DURABILITY, ROUNDNESS AND BALANCE
Arcos II pool balls are designed to be the most accurate billiard balls possible, thanks to the killer combination of durability, roundness and balance in each ball.
► MORE CONTROL
The consistency and higher phenolic composition of the Arcos II's delivers a more efficient energy transfer between the cue and the balls, and reduces the static electricity between ball and table. That means more control, less out-of-control kicks and smoother, faster play. Rack and roll the Predator way!
► TESTED FOR CONSISTENCY THROUGHOUT PRODUCTION
Every set of Arcos II Balls is meticulously inspected by hand and tested for consistency throughout production. We believe better performance requires better balls – and that's exactly what you're getting with Arcos II.
► PHENOLIC RESIN BALLS LAST 5X LONGER THAN POLYMERS OR POLYESTER BALLS.
So, with a vision backed by science, we created the Arcos II with Aramith's highly guarded secret formula containing 99% HIGH-QUALITY PHENOLIC RESIN, and cure them multiple times over a longer period of time to produce harder, more durable balls. This longer curing process combined with almost pure phenolic resin means harder, more durable balls that are burn spot resistant. Even our cue ball has the same high phenolic resin composition, which produces a distinct, crisp and vibrant pop on impact. It's a sound unique to the Arcos II – the sound of victory.
Predator Pool Cues


* Shipping charges will be taken off at time of billing. Free Ground shipping only. Faster shipping is available at additional cost. Free shipping in the US Only.