THE STRAIGHT FACTS.
When you use English or sidespin, cue ball deflection causes your cue ball to miss the target you're aiming at. Players at all levels need time to learn how to compensate for this. But thanks to Predator, even beginners can more through the process more quickly and see an immediate improvement in their game. Predator technology reduces the error factor and makes it easier to pocket balls using English. You don't need to adjust the way you do with other cues. Just aim, and fire.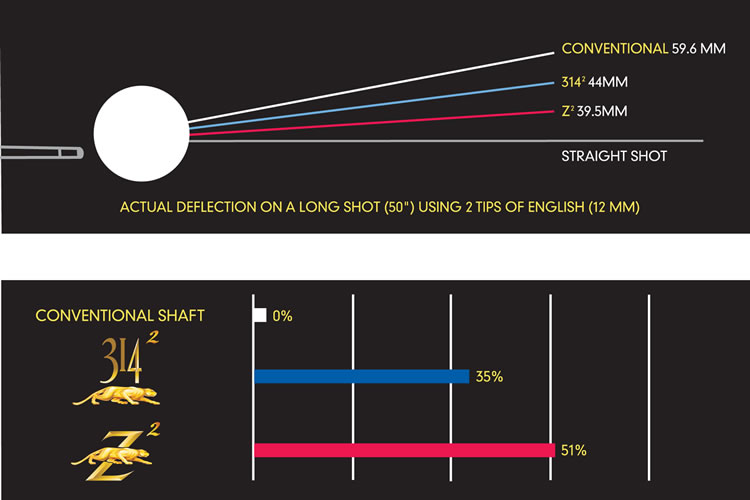 See for yourself how the Predator second-generation shafts reduce cue ball deflection dramatically more than conventional shafts.

A stiff shaft sounds like a good thing, but a heavier, stiffer shaft actually pushes through the cue ball, causing it to deflect away from your target.

The front end of a Predator shaft is significantly lighter and more flexible than a standard, allowing the cue ball to push the shaft aside rather than the shaft pushing the ball out of line. The result? Straighter shots every time.

Predator shafts provide increased accuracy over conventional shafts and help you pocket more balls.


GET YOUR PIECE OF THE ACTION

Our second generation of shafts goes beyond reducing cue ball deflection. Their unique splicing eliminates grain directionality and produces a consistency of flex and straightness that is unequaled by any traditional one-piece shaft. In fact, players who use a Predator 10-piece shaft experience 22% more consistency in their shots. It's no wonder so many professionals have made the switch to Predator technology.

314² SPECS


TIP DIAMETER
TAPER
FERRULE LENGTH
JOINT AVAILABLE
STANDARD TIP

STANDARD LENGTH
12.75MM
PRO-ALMOST STRIGHT FOR 13"
6/10"
VARIOUS
EVEREST BY TIGER PRODUCTS
MOORI OR SNIPER AVAILABLE
29" STANDARD - 30" AVAILABLE

IT ALL STARTS WITH INNOVATION

AT PREDATOR WE HAVE ONE MISSION: MAKE A DIFFICULT GAME A LITTLE EASIER. (Pretty simple, right?) It's how we get there that's a bit more complex. For more than 10 years, we've led the billiard industry in a technological revolution that has changed the face of the game. Behind every stronger break and straighter shot is painstaking research, countless designs and nonstop testing. It's a scientific approach that delivers unparalleled accuracy, enhanced consistency and unsurpassed power.

CUE BALL DEFLECTION & ACCURACY

| | |
| --- | --- |
| The vast majority of all shots are missed because of cue ball deflection. That's why, in 1992, we began an intensive study to understand the dynamics of the pool cue. The backbone of this research was our robot, Iron Willie. Iron Willie enabled us to objectively test and accurately measure pool cue performance while keeping all variables constant. Today, we continue our dedication to research through a partnership with the Engineering Department of the University of North Florida. By furthering our understanding of the transfer of energy from cue to cue ball, we've been able to develop revolutionary technologies that offer dramatic improvements in cue performance, including: | |

IMPROVED ACCURACY

MORE SPIN

EXCEPTIONALLY SOLID FEEL

UNEQUALED CONSISTENCY

OUR KEY TECHNOLOGIES


THE SCIENCE BEHIND IMPROVING YOUR GAME.


314² and Z²




SECOND GENERATION FRONT-END




New front-end technology and the shorter ferrule go the distance to improve performance.





10-PIECE SHAFT




Eliminates grain directionality and produces a consistency of flex and straightness unequalled by any shaft.

5K & BLAK SERIES - C4 TECHNOLOGY


The combination of our unique four-piece coring system and use of phenolic parts gives a more solid feel and enhances cue longevity.

PREDATOR 2 - 10-PIECE BUTT




Behind Predator's stainless steel butt cap is a system designed to reduce vibrations and enhance feel.

SNEAKY PETES - TRADITIONAL FULL SPLICE




Provides far superior strength, clean aesthetic lines and a pure transfer of feedback to your hand.

BK2 - BREAKTHROUGH TIP TECHNOLOGY




Delivers speed and power with incredible accuracy. It will instantly increase the power you transfer to the rack.

AIR - THE TIP TAKES YOU HIGHER




Three-piece construction and advanced front-end technology deliver pinpoint accuracy, while phenolic and carbon fiber plate provides a higher, faster, more powerful shot.
Predator Technology |
C4 Technology
|
Warranty & Cue Care
|
Uni-Loc
|
PROS
|
Joint Styles
|
Tech Tips
| Playing Tips
Click Here for Predator Index